Solutions for the CFD-Driven Engineering
FRIENDSHIP SYSTEMS specializes in software and solutions for the design of flow-exposed products. We offer you geometry modeling services, support in the design process automation, consultancy in the context of CFD-driven engineering tasks as well as individual OEM solutions for CFD developers.
No matter which CFD package you use in your company or from which industry you are – please do not hesitate to drop us a line if you are interested in robust variable geometry for CFD, as well as CFD-driven design explorations & shape optimization.
Tailor-Made and Flow-Related Parametric Models
Interested in fast and automated creation of design variants in your CFD department? We can help you to build your CFD-ready geometry model on the basis of CAESES® in just a few days. Our variable geometry models are 100% robust and perfectly suited for automated meshing and CFD analysis. The generation of new design candidates will be super easy for you, no further preprocessing (healing, defeaturing etc.) is required!

Such a model can be based on a CFD-centric thinking, i.e. we can incorporate all your flow-related parameters and application-specific degrees of freedom. Any design constraints can be considered and built in as well. You get a tailored parametric model for your department, always in tight communication with you.
This is how we can get started in a close collaboration:
Send Us Your Information
You are the expert, and we check how to bring it into the CAESES® environment.
Give Us Just a Few Days
We build your parametric model and optionally automate your simulation together with you.
Training and Productive Use
We train you on the model setup, to make you able to maintain and modify it.
Integration Into Existing Workflows
Besides the creation of robust geometry models, we can assist you in integrating your new geometry model into your existing workflow so that you benefit from your new geometry models right away. All your CFD tools can be connected to the models in order to automate the simulation run of a design candidate.
Engineering solutions and customized apps on the basis of CAESES®
We wrap everything into an easy-to-use browser interface so that you or your colleagues do not need any new software expertise to conduct design studies. These web apps can even contain full CFD setups, to quickly create and analyze a new design candidate. Learn more.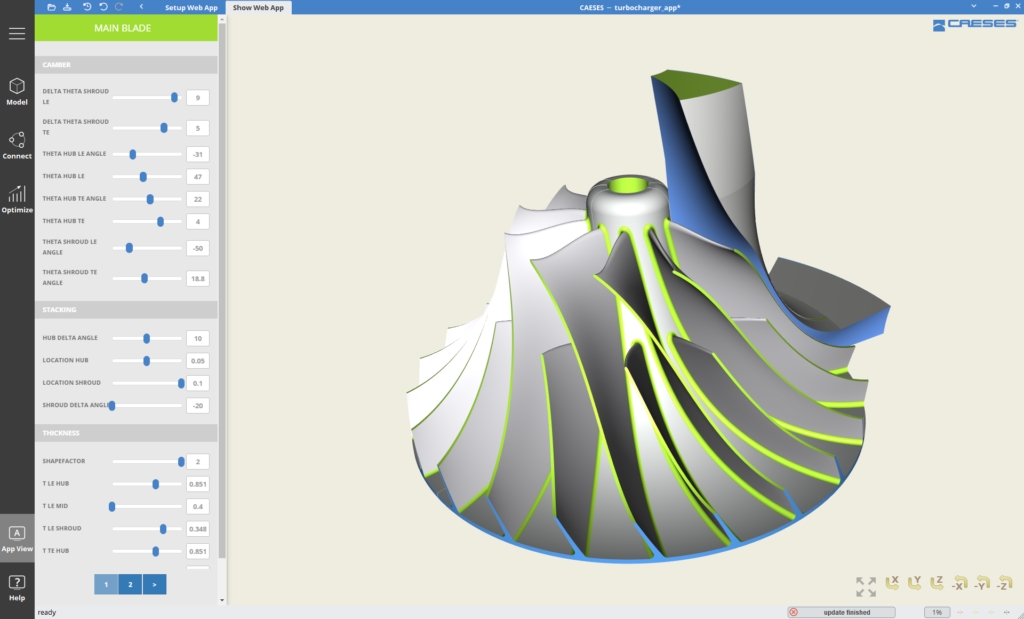 Design Workflows with Other Optimization Tools
If you already use other optimization tools in your department, we can assist you in running your new geometry models in batch mode. Your existing tools can directly control and modify the CAESES® models, manually or fully-automated. We also have several close collaborations with vendors of optimization software (Dynardo, Noesis), see our partners section for more information.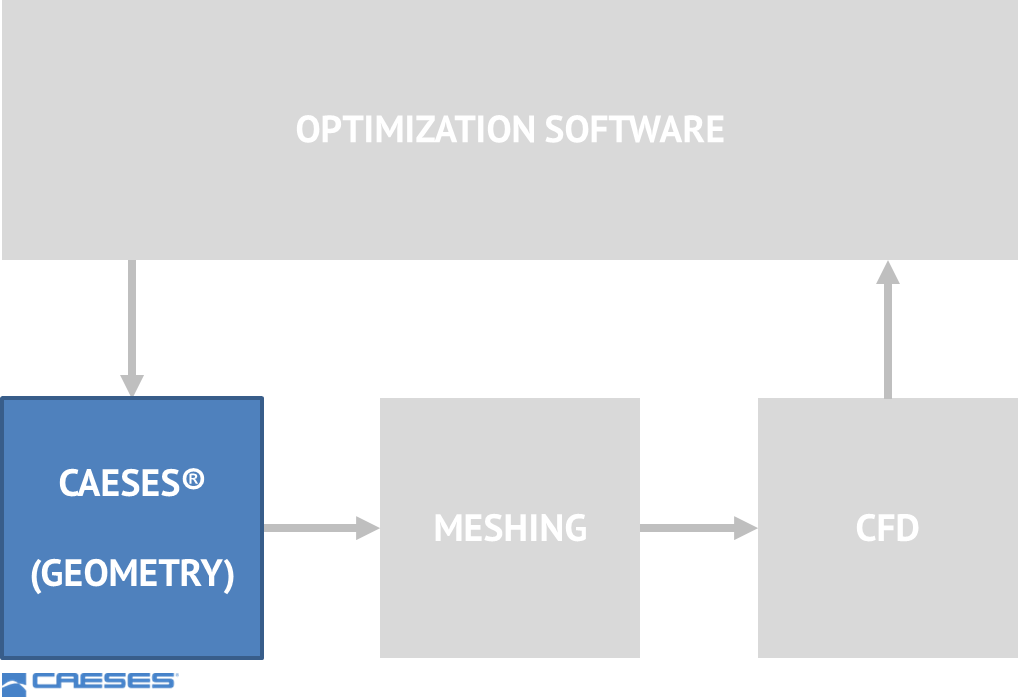 Automation of the Design Process
We can also support you to fully automate your design process on the basis of CAESES®. This includes:
Automatic fitting of "dead" geometries (STL, IGES, STEP) into variable, parametric geometries – with a single click!
Coupling of several simulation and meshing tools for more complex workflows
Writing of custom features, e.g. for using proprietary import/export formats
We launched a pilot project with FRIENDSHIP SYSTEMS to evaluate CAESES in May, it helped us solve a time-critical task in July and it became a design tool by October. By then we had created flexible and robust parametric models for complex parts, enabling us to optimize in design spaces we had previously not been able to explore.
Training
We offer individual on-site CAESES® training all over the world for setting up geometry models and for automating your CFD package with CAESES® e.g. on your HPC resources.