Solutions for Ship Design
"If you are looking for an ideal partner for hydrodynamic optimization of marine applications, you should consider getting in touch with us right away."
At FRIENDSHIP SYSTEMS our heritage is in the Shipbuilding & Marine sector, and we count many of the largest shipbuilders in the world as our customers. We have best-in-class expertise in parametric modeling of hull forms, appendages, propellers and energy-saving devices. In order to drive the innovation of our products, FRIENDSHIP SYSTEMS has always been involved in challenging research projects for ship design and optimization.

Variable geometry with fewer and smarter parameters for optimization
Propeller Design and Optimization
We can also discuss your individual requirements and wishes for a parametric propeller model. Your geometry model will be available in just a few days. Typically, our models are robust, flexible and ready for creating manual designs as well as running CFD-driven shape optimization. Any company-specific know-how can be incorporated. We build propeller models with intuitive use for you on the basis of NACA profiles or any other definitions, including airfoil data from existing data bases. Your variable propeller geometry can be coupled to other external tools such as preliminary tools, meshing and CFD. Finally, we can immediately create solid CAD geometries of propellers for you on the basis of PFF data, e.g. for strength analysis.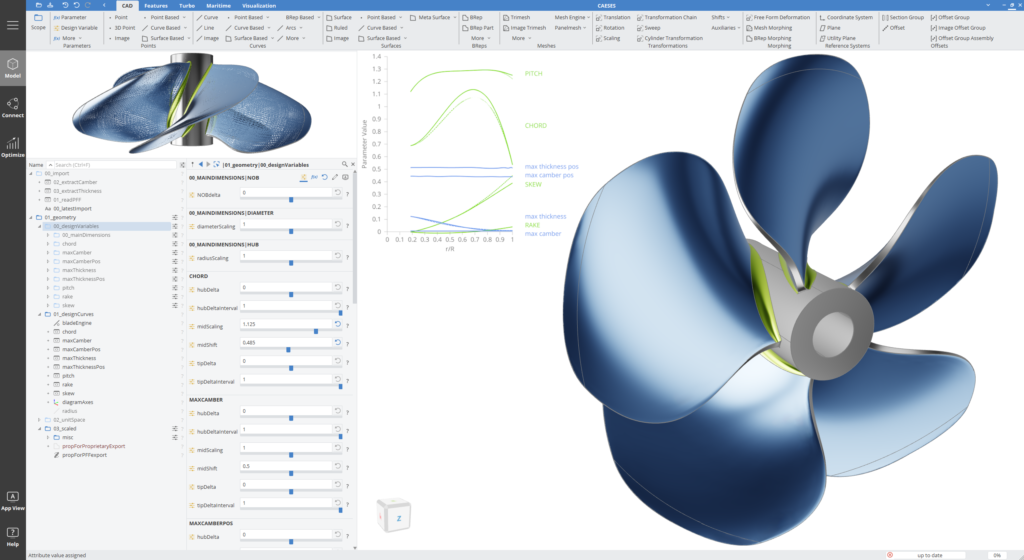 Software: CAESES
We develop and distribute our software CAESES®  to naval architects and other engineers that are interested in smarter parametric modeling of ship hulls for the CFD-driven shape optimization. See the product pages for more information about this software solution.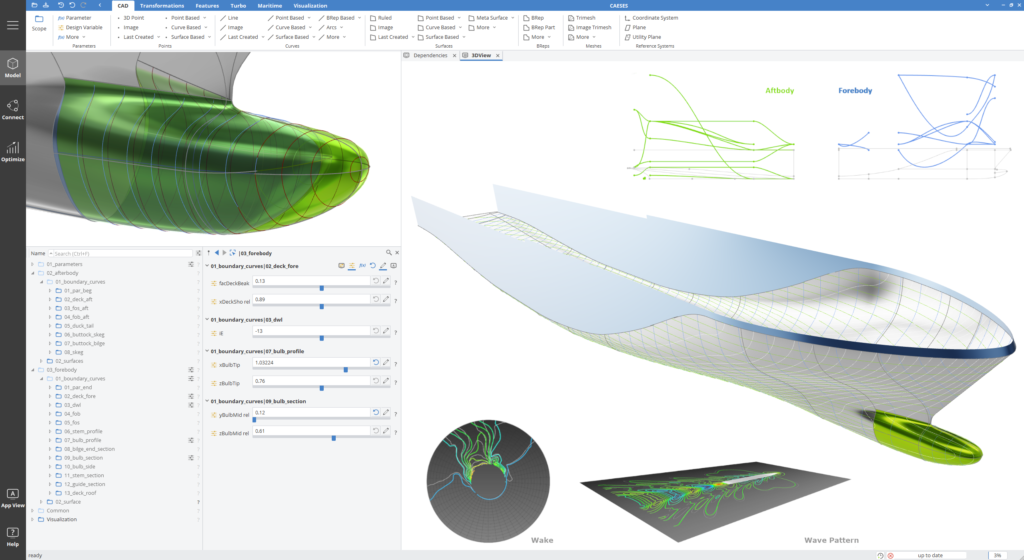 Our Offer for You
FRIENDSHIP SYSTEMS can offer ship hull designers the following services and solutions – fast and uncomplicated, no matter which type of vessel you want to design and optimize:
Support in creating efficient parametric ship hull and boat models, propellers and energy-saving devices
Consultancy and formal projects in ship hull optimization
CFD automation based on the tools you use, to conduct hydrodynamic studies with your ship hull model
Fast and efficient modifications to existing geometries using shift and deformation techniques
Creation of clean and closed STL/IGES/STEP files from exported NAPA IGES files
Support in using Adjoint CFD for automated ship hull optimization
In-house CAESES® training for your design department
Customers
Our product CAESES® is used by all leading ship design offices and ship yards in the world, such as Daewoo Shipbuilding & Marine Engineering (DSME), Hyundai Heavy Industries, Samsung Heavy Industries, HSVA, TKMS, Meyer and FORCE.